---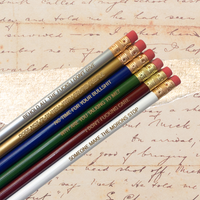 These pencils are here to help you stay sane when the world around you went crazy. Nothing is more important than laughing when faced with the absurdity of the human world.

these pencils are engraved with the following phrases:
does not play well with stupid people
someone make the morons stop
I don't fucking care
Behold all the fucks I don't give
No time for your bullshit
Why are you talking to me?
#2 lead
Wood pencil body
Engraved in USA
Measures 7.5"
Not sharpened
Help your friends channel misanthropy today... send them to The Carbon Crusader!